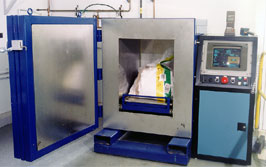 Radiation Monitoring For Waste Minimization
LCS provides a variety of monitoring solutions for waste minimization initiatives. By monitoring waste to segregate waste that is not active from true radioactive waste, disposal costs can be minimized. LCS builds custom designed instrumentation solutions for monitoring at the low levels required to assure compliance with national and world release level standards. LCS recommends and invents monitoring solutions for unusual, difficult, or remote situations.
With experience in gamma spectroscopy and alpha/beta determination techniques, LCS offers field and laboratory level sample analysis for nuclide identification.
LCS Waste Bag Monitor (WBM) model 021-001
(Download a product brochure here.)

The Waste Bag Monitor (WBM) is a highly sensitive radiation measuring instrument designed to quantify the radioactivity of waste bags. A lead shielded measuring chamber with a hinged door houses 6 plastic scintillation detectors mounted on the inside faces of the box. A rack mounted computer and electronics assembly attached to the right side of the measuring chamber displays the measurement. The computer keyboard is locked and hidden away in the rack to prevent unauthorized tampering. All user input is either from scanned bar codes or the rack mounted 7 button push button station. An audible annunciator sounds for various conditions alerting the user to check the screen.
A high degree of customization is possible during manufacture. Please contact us for a quote based on your specific requirements.
Read on for information on Berthold Technologies...